Exhibition: Max Gill: Wonderground Man
Ditchling Museum of Art + Craft – in the village Max knew so well – is the perfect venue for this show of his work. It runs until April 28th so there's still plenty of time to see it. The exhibits range from his most well-known poster maps to displays of family memorabilia including letters, photographs and even his baby shoes! There are still two curator tours: 20th March and 17th April, plus lots of other events and workshops related to the show. For more details go to the museum website (see Events).
The Nashdom Wind-dial Panel
On display for the first time are two original artworks for Max's first map commission – a painted 'wind-dial' panel for Nashdom, a splendid neo-classical villa near Taplow. The small coloured sketch seems to show his first thoughts while the larger work is the full-scale part-finished design.
Completed in 1909, the house was designed by Sir Edwin Lutyens, a key figure in Max's early career, for Prince Alexis Dolgorouki, whose father had been Secretary of State to Tsar Alexander II. 'Nashdom', incidentally, means 'Our home' in Russian. Renowned for her lavish entertaining, the Prince's wife Frances 'Fanny' Fleetwood Wilson, a wealthy Scottish heiress, wanted a house for hosting weekend river parties. Her lack of pedigree, however, led to some unkind comments: Mrs William Dodge James, another celebrated society hostess, said of Fanny: 'She is no one…vulgar, but kind and very fond of entertaining … style her HH and she will take any amount of it'. It is said that the Prince hosted gatherings of White Russians at Nashdom to discuss the problem of Rasputin, whose malign influence over the Tsarina was causing great discontent and division at the Russian Court. On the Prince's death in 1915, Fanny moved to France where she died in 1919.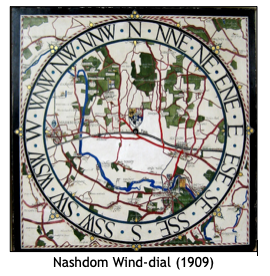 In 1929 Nashdom became a Benedictine abbey but this closed in the mid-80s and after a decade of disuse, the building was developed into residential apartments.

The wind-dial is still here in its original location, now a communal space. Sadly, its metal indicator – as well as the weather vane which turned it – has disappeared although the map is otherwise relatively undamaged. Painted in 1909, the year after Max set up his own practice, this charming map provides a vital link to Max's future career as a pictorial mapmaker, setting the style for many of his future creations. Nashdom appears in the north-west, near its more opulent neighbour Cliveden. The simple Roman compass lettering is the most striking element of the design although during those lavish evening parties, guests' attention would have been captured by the gold leaf of the heraldry glittering in the candlelight. The main line railway from London crosses the map with a small toy-like train chuffing its way towards Slough and Taplow – but would guests have arrived by rail, one wonders?
The Standard Military Headstone
Another highlight of the Ditchling exhibition is a military headstone, a generous loan from the Commonwealth War Graves Commission. As some readers will know, Max designed the alphabet as well as nearly all the regimental badge cartoons.
A sheet showing Max's WW1 Headstone Standard Alphabet No. 4 is also here with a note in Max's hand recording that the lettering was revised for WW2 (Alphabet 4B).
Also not to be missed is his original pencil drawing of the Royal Sussex Regiment badge; the cartoons were produced as a guide for the masons to ensure uniformity.
This can be found amongst items in a special display in a side gallery of local WW1 connections, alongside the drawing of Max's own headstone by Joseph Cribb. Avid enthusiasts could also make their way to nearby Streat to seek out Max's burial place in the new graveyard across the path from the church – he could not have asked for a finer view of the South Downs, which held so many precious boyhood memories for him. At the back of the church look for a small inscription painted by Max entitled 'PAX VOBISCUM.
If you'd like to know more about anything here, do get in touch.

Caroline Walker