MacDonald Gill: Charting a Life
This first ever biography of my great-uncle MacDonald 'Max' Gill is packed with information, anecdotes and pictures. A must for every Max fan!

A few copies are still available at a reduced price of £25 (plus p&p). Contact Caroline by email or via the  contact form
MacDonald 'Max' Gill (1884-1947) was an architect, letterer, mural painter and graphic artist of the first half of the twentieth century, best known for his pioneering pictorial poster maps including the whimsical Wonderground Map of London Town. His beautiful painted panel maps decorate the Palace of Westminster and Lindisfarne Castle and the alphabet he designed in 1918 is still used on the British military headstone.
He enjoyed close links with many leading figures in the arts & crafts world: the architects Sir Charles Nicholson, Sir Edwin Lutyens and Halsey Ricardo, the calligrapher Edward Johnston, Frank Pick of the London Underground, and of course his brother – the sculptor and typographer Eric Gill.
Overshadowed in recent times by his controversial sibling, MacDonald Gill was nevertheless a significant artist of his time. With much of his four-decade output touching on the remarkable events and developments of his time – including two world wars, the decline of Empire, the advent of flight, and innovations in communications technology, his work also takes on a unique historical importance.
Drawing chiefly from family archives, this biography of MacDonald Gill is the first publication to tell the story of this complex and talented man.
A few copies are still available at a reduced price of £25 (plus p&p). Contact Caroline by email or via the  contact form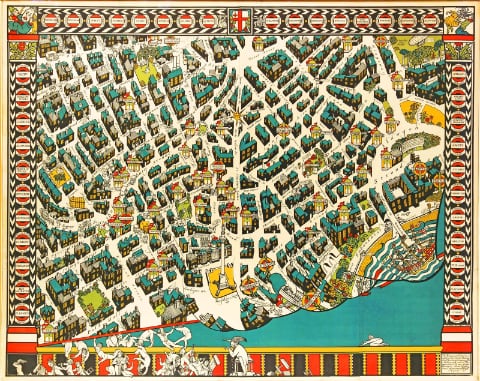 "An enchanting biography"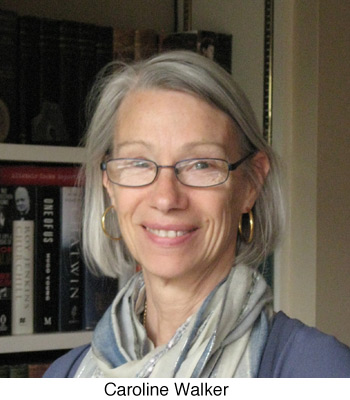 Caroline Walker is the great-niece of MacDonald Gill, and has been researching his life and work since 2006. She has been co-curator of several exhibitions dedicated to her great-uncle, including Out of the Shadows: MacDonald Gill at the University of Brighton in 2011 and Max Gill: Wonderground Man at the Ditchling Museum of Art + Craft in 2019. Caroline is an accredited lecturer for The Arts Society and now spends much of her time researching, writing articles, giving lectures and running the artist's website.
London Underground Maps – Art, Design and Cartography.
Published in 2012 and written by Claire Dobbin, the curator of London Transport Museum's Mind the Map exhibition, this informative book has a chapter devoted to the maps of MacDonald Gill and it contains detailed illustrations of most of his Underground poster maps. Available at all good bookshops.
RRP £35
The maps published by Old House/Osprey are no longer being printed but some can still be found on bookseller sites.
Please note that this website does not have a shop facility.
Subscribe to our newsletter
Don't miss new updates on your email