On November 11th – Armistice Day – the nation observed the two minute silence at eleven o'clock to remember the victims of war. Four of MacDonald 'Max' Gill's brothers saw active service on the Western Front including identical twins Vernon and Evan (my grandfather) both of whom served in the same Canadian regiment as John McCrae, writer of the immortal lines 'In Flanders fields the poppies blow … '. The twins and their youngest brother Cecil survived the conflict but Kenneth (below) was tragically killed in an air crash just days before the end of the conflict. His grave in Filliévres, France, is marked by a standard military headstone bearing the lettering and regimental badge designed by his older brother Max for the Imperial War Graves Commission.
Max was exempted from military service as he was overseeing the building of an innovative farm and model village in Briantspuddle, Dorset (see Newsletter Summer 2014). He also had health problems but in June 1917 was passed fit for 'Sedentary service at Home Camps'. With a letter of reference from Edwin Lutyens he offered his services as a mapmaker to Major-General William Sefton Brancker, then Director of Air Organisation whose response is unrecorded but Max continued his work in Dorset. For more information on Max's work with the IWGC see Newsletters Spring 2017 and Winter-Spring 2019.
In the post-war years Max had many commissions to design memorials to commemorate the fallen of the war ranging from a village cross such as Bere Regis (left) to a small personal mourning card (right).
He also designed rolls of honour for firms such as Barings Bank, as well as several Oxford Colleges including Balliol, Worcester and Christ Church.
The imposing memorial (below) was for East London College (now Queen Mary College). Described as being of 'azure blue gesso inscribed in gold', it was unveiled in the college library on 7th February 1923 by Major-General Sir Gerald Ellison. Disaster befell the memorial circa 1950 when a well-meaning cleaner attempted to clean it but instead caused significant damage. The work was removed for restoration but the college then decided to install a new memorial to include the names of World War 2 victims. What happened to Max's original roll of honour is a mystery!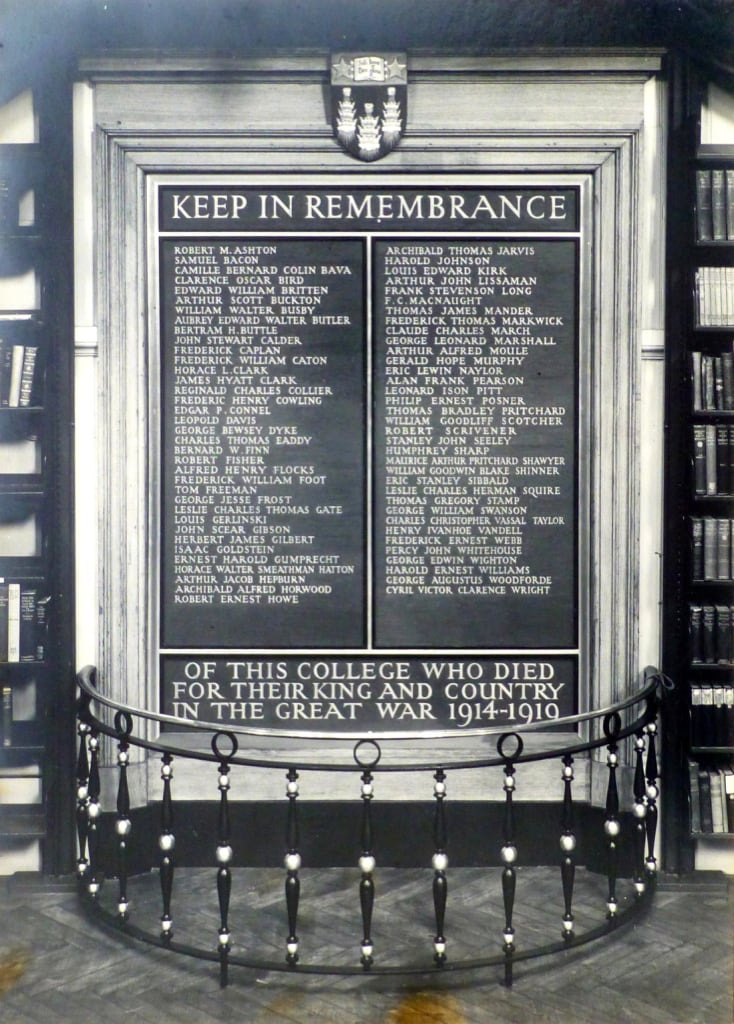 Shown below is the pretty triptych memorial at All Saints, North Moreton, Oxfordshire, the church where Max worshipped in 1912–13 when he shared a house in the village with his friend Ben Boulter. The artwork shows just how much work and craftsmanship was involved in the design and making of such an object.
Shortly before his death Max completed two commissions for All Saints, a Grade 1 listed 12th century church in Brightlingsea, Essex. He painted the carved reredos saints as well as about 14 glazed tiles with the names of local men lost at sea during WW2. These were added to the church's 'Tiles of Tragedy', a unique frieze of over 200 tiles begun in the 19th century to commemorate every parishioner lost at sea. It even includes the name of a local fisherman who drowned in the Titanic tragedy of 1912.
Just opened at the London Transport Museum in Covent Garden is the new Global Postal Gallery. The current display of over 100 posters, some alongside their artwork, is entitled 'How to Make a Poster' and is designed to be 'a visual exploration of poster commissioning and creativity in the pre-digital age'. Five artists are particularly highlighted including McKnight Kauffer, Dora Batty and Abram Games. As you can imagine I was surprised that Max does not warrant a mention anywhere but let's hope that he will be represented in a future exhibition here. For more info go to https://www.ltmuseum.co.uk/visit/museum-guide/global-poster-gallery
And talking of posters, this year sees the centenary of Max's enchanting poster The Peter Pan Map of Kensington Gardens, his fifth for the London Underground. It illustrates J.M. Barrie's fairytale about Peter in his infancy, when – in horror at the idea of becoming an adult – he flies out of his nursery window into the park where he meets an array of colourful characters and has a series of adventures. An early form of the story first emerged in the later chapters of The Little White Bird, a novel published in 1902, but appeared in its classic form – illustrated by Arthur Rackham – in 1906, predating the more famous Peter Pan or The Boy Who Wouldn't Grow Up.
The book was a nursery favourite so one can imagine children on the platforms of the Underground standing spellbound in front of Max's map looking for their favourite characters such as Queen Mab and Solomon Caw the crow, or the locations of incidents such as Peter sailing along the Serpentine in a thrush's nest with his nightgown for a sail.
The purpose of the poster was, of course, to entice families onto the tube at weekends – they could then seek out the Round Pond where Peter played at sailing boats, the Baby's Palace (Kensington Palace) where 'the baby slept', and 'Peter's sentry box on wet nights' – in reality Queen Anne's Alcove (designed by Christopher Wren). The Daily Telegraph aptly described the map as 'a wonderful itinerary through the children's pleasure ground'.
I hope you've enjoyed reading this newsletter. It's the last for 2023 so let me wish you all
Happy Christmas and New Year!
Caroline