When I wrote the last newsletter in June, there was hope that the Covid pandemic would be over by the autumn. Sadly that hasn't happened but I sincerely hope that you have stayed well and Covid-free.
My long-awaited biography MacDonald Gill: Charting a Life launched to great acclaim in June – The Daily Telegraph gave it five stars and proclaimed it 'an enchanting biography'! Inevitably the launch at the London Transport Museum on June 18 had to be cancelled but glowing reviews have ensured that sales have been good. If you haven't yet got a copy, newsletter subscribers can still get one for £20 +£3.50 p&p (retail price is £30) direct from the publisher (01273 812 066 or www.unicornpublishing.org) – quote the Promo Code GILL. If you order by phone, you can request a copy with a signed bookplate. This offer closes at the end of the year. It will make a brilliant Christmas present for anyone interested in art, architecture, maps, the war graves … or just a good story!
In the summer months there have been almost no lectures but I've been busy writing articles and also fielding website enquiries. Some of you may be interested in 'The Wind Dials of MacDonald Gill' a piece in this September's issue (No. 162) of the International Map Collectors' Society (IMCoS) Journal, while for those interested in Max's work for Lutyens there's an article in the latest newsletter of The Lutyens Trust. Also, in April I wrote (with the assistance of Anne Harvey) about the creation of Eleanor Farjeon's book Nursery Rhymes of London Town (which was illustrated by Max) for the Children's Illustrated Book History Society. If you'd like to obtain copies of these newsletters or journals, do contact any of these organisations directly.
You say you're tired of London
As an antidote to the continuing barrage of dismal news, I thought it would be cheering to take a look at Max's third poster for London Underground You say you're tired of London. Also known as A Map of the North Downs, this merry map celebrates its centenary this year.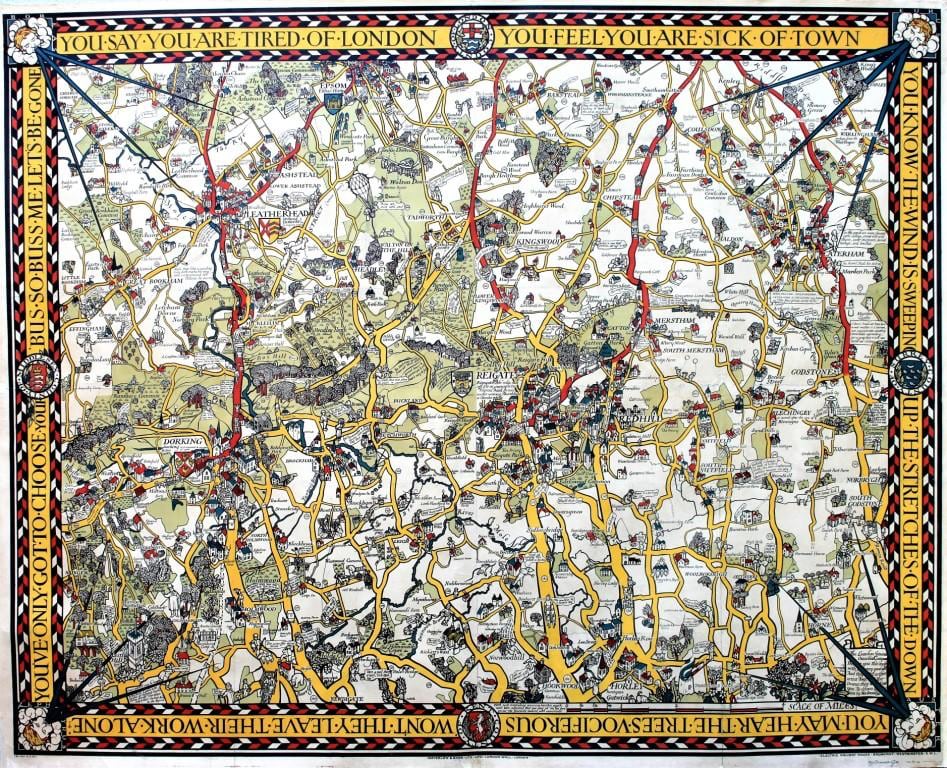 You say you're tired of London (A Map of the North Downs, quad-royal (50 by 40 ins) poster designed by MacDonald Gill for the London Underground, 1920
Unlike Max's two previous posters for the Underground – which were produced to promote travel on the tube – this was created to entice Londoners and their families to get out into the countryside at weekends on the recently extended bus services. Indeed, several open-topped double-deckers packed with day-trippers can be spotted motoring toward beauty spots such as Box Hill. The conductor of the bus pictured below is in no doubt about the ultimate purpose: 'It's your money we want'!
Potential visitors are tempted by historic landmarks, sites for the amateur geologist, interesting churches and of course local hostelries to quench the thirst. Max-ish humour abounds with much play on place names such as Coldroast Farm near Chipstead where a chap says: 'Makes a cove feel peckish, not 'arf, it don't', and a stag over Deer Leap Wood avoids the arrow of a hunter who complains: 'Why won't he keep still?'
As with his earlier posters for the Underground, Max slipped in numerous references to friends and family – pictured sailing over the countryside in a hot air balloon is his youngest brother Cecil.
As in The Wonderground Map of London Town (1914), the main message flows around the four sides of the border. The text at the bottom is upside down – logical perhaps, but difficult for the reader – a fact satirised in the May 1920 edition of Punch magazine pictured below. Max took the point, ensuring the text for his later maps was the right way up.
Cartoon published in Punch magazine, May 1920
The Pocket Underground map of 1920
In that same year Max's first pocket map of the Underground network was published. This was one of the earliest to eliminate all background detail such as grey built up areas and green open spaces to create a simpler more diagrammatic map. Max even made the bold but ultimately unpopular step of removing the River Thames (reinstated by the pocket map's next designer Fred Stingemore in 1925). The Gill versions still retain the generally correct geographical distribution of the underground lines and stations. However, this results in such overcrowding in Central London that station names and railway connections are squeezed in using tiny script while some lines in outer areas cannot fit on the map. These problems would be solved in the early 1930s by Harry Beck who devised the familiar circuit-style tube map we know and love today.
London Underground Pocket Map, designed by MacDonald Gill, 1920
Six colours are used for the nine underground lines – three use a broken pattern – while interchange stations are easily recognisable by a circle with white centre. The Metropolitan Line is included although it had not yet been taken over by London Underground. Always interesting to spot are those stations which no longer exist such as Wood Lane, Brompton Road and Dover Street. Frank Pick, the LU Commercial Manager who commissioned the new map, was a great champion of Max's graphic work yet he was also keen to simplify the network signage. In fact he had already introduced a modern san serif alphabet designed by Edward Johnston. Max's italics – although attractive – seem rather old-fashioned for the start of The Jazz Age.
Best Wishes To You All For A Happy Christmas And A Peaceful New Year